Watch Harrison Ford say he's "not really" looking forward to Han Solo movie
During a Star Wars Celebration interview with George Lucas
Harrison Ford has said that he's "not really" looking forward to the upcoming Star Wars Han Solo spin-off film.
The Han Solo origin film will hit cinemas in December 2018. Alden Ehrenreich will play a young Han Solo, alongside a cast that includes Donald Glover, Phoebe Waller-Bridge, Woody Harrelson, Emilia Clarke and Michael K Williams.
Ford was speaking in an interview alongside Star Wars creator George Lucas at the Star Wars Celebration convention in Orlando when he was asked whether he was looking forward to the movie as a fan". His reply: "Not really."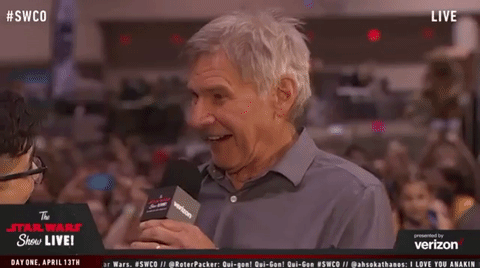 After backtracking but admitting that "it'll be a little weird", Ford added: "But you know, I've meet the fella who's gonna play the younger Han Solo. Wonderful guy, very sweet, and a very good actor. So I'm delighted in the choice". Watch the full interview below.
Star Wars producer and Lucasfilm president Kathleen Kennedy has cleared up fans' confusion about Han Solo's name.
Bob Iger, the CEO of Disney, recently appeared to reveal that Han Solo is not the smuggler's real name. Discussing the upcoming spin-off film introducing a new, younger version of the character made famous by Harrison Ford, Iger said: "[It] picks up with Han Solo when he was 18-years-old and takes him through when he was 24. There are a few significant things that happen in Han Solo's life, like acquiring a certain vehicle and meeting a certain Wookiee that will happen in this film. But you will also discover how he got his name."
Fans then began to speculate that Han Solo is not the character's real name. However, Kennedy has since dismissed this theory, telling MTV: "I'm not sure that that's entirely what Bob meant. There's more to Han Solo's name, but it's not that it's not his name. It's obviously his name. It will always be his name."
The Han Solo film will be preceded by the release of Star Wars: The Last Jedi this December.
The post Watch Harrison Ford say he's "not really" looking forward to Han Solo movie appeared first on NME.
Powered by WPeMatico