Charlie Brooker's kid listens to Radiohead on loop before bed because he's cooler than you
There are 'No Surprises' in this kid's bedtime routine
Take a moment to think about what you did last night before bed. Maybe you entered a never ending Twitter scroll. Perhaps you had a cheeky swipe through Tinder, or a good old fashioned Netflix binge? Or, deep breath here, you read a book.
But chances are you probably didn't do the same thing as Charlie Brooker's son. That's because Charlie Brooker's son, Huxley, is way cooler than you. Not just because his mum is the greatest Blue Peter presenter of all time, Konnie Huq, and his dad has increased our collective tech paranoia tenfold. No.
Huxley Brooker is cooler than you because he listens to Radiohead on repeat before bed.
Specifically, he asks to listen to 'No Surprises' on Charlie's phone until he falls asleep. The kid is three.
Last night was no exception. Brooker played the track for 3-year-old Huxley until he'd dropped off, then let the song reach the end. Why? Because cutting the track early is "bad luck", obviously.
And the Radiohead cycle continues in the waking hours. When said child wakes him up at 6am, Charlie plays 'A Moon Shaped Pool' to help himself get back to sleep.
One Twitter user pointed out that the lyrics to the 'Ok Computer' track are rather… nightmarish.
But Huxley Brooker's not bothered by a little thing like "A handshake of carbon monoxide". Huxley Brooker lives for depressing Radiohead lyrics. Huxley Brooker probably heard 'Ok Computer' before you did. Bet you he's got tickets to see Radiohead headline Glastonbury this year.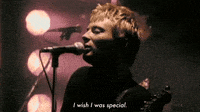 Also throwback to when Charlie used 'Exit Music (For A Movie)' as the jolly outro music to Black Mirror episode 'Shut Up And Dance'. (The vid contains spoilers).
Sweet dreams!
The post Charlie Brooker's kid listens to Radiohead on loop before bed because he's cooler than you appeared first on NME.
Powered by WPeMatico